Lenovo ThinkCenter M700 Tiny
Introduction
I was walking past a Cash Converters the other day and something in the window caught my eye. It was a Lenovo ThinkCenter M700 Tiny for £199. After looking at the specs I picked it up.
This is a review of the hardware and what I have done with it.
Specs
The model I picked up is specifically part number 10J0S68M0B. This has the following in it:
Intel Core i5-6500T with 4 cores at 2.5GHz
8GB RAM
120GB SSD
1 x 1 Gigabit Ethernet Port
Intel Integrated Graphics
Dual DisplayPort
6 x USB 3.0 Ports
1 M.2 SSD Slot (Empty)
Windows 10 Pro
There was even 255 days of warranty left on it when I checked online.
What interested me was the potential for upgrades and if it would run ESXi.
Upgrades
I ordered a 16GB SODIMM from Amazon and a put it in the spare slot to give me 24GB RAM. It will go up to 32GB RAM when I buy another.
As it has an empty M.2 slot I plan to buy a second SSD for the device. I have two reasons for this. The supplied SSD is only 128GB so pretty small. Secondly if I buy it I could potentially use the M700 as a vSAN node.
I could add another Gigabit Ethernet using a USB 3.0 adapter to provide some additional bandwidth and redundancy.
Lastly if I wanted to go all out the system will support up to a 6th Generation i7 CPU but for my workloads the i5-6500T is sufficient.
ESXi 6.7
I downloaded and installed the vanilla ESXi 6.7 ISO from the VMware website. As it's not a server or even supported on the Hardware Compatibility List I didn't try the Lenovo customised image that is available.
I installed ESXi to a spare Kingston 16GB USB flash drive and it installed with no issues. All hardware components were picked up with no additional VIBs needed.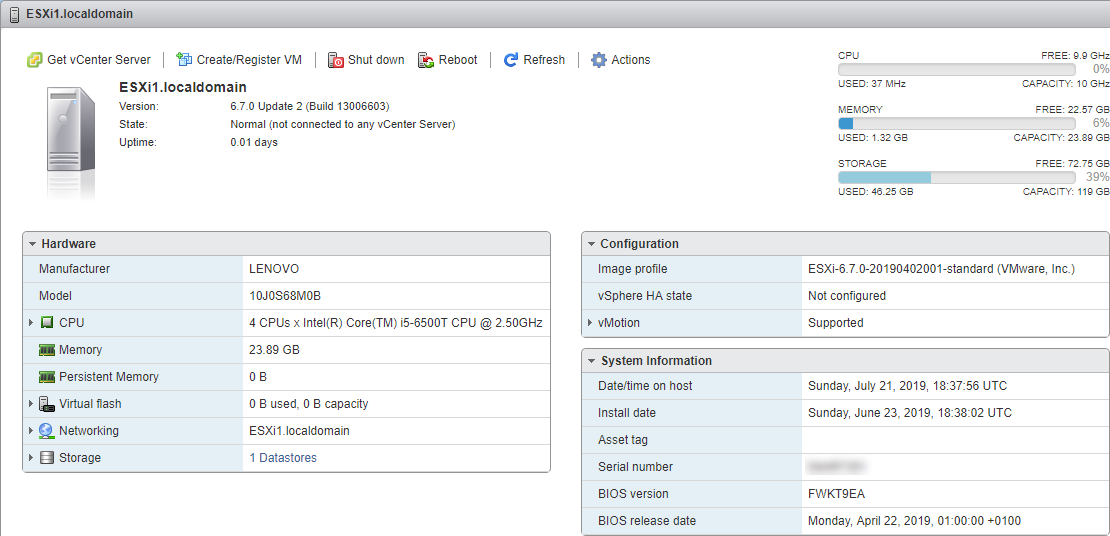 As you can see from the screenshot everything looks good.
What To Do With It?
So I run my lab nested on VMware Workstation 15 but it runs on a big Workstation which I don't want to leave on 24/7 for power usage. Core networking services is handled by Unifi and Pi-hole for DNS.
So what will I do with the M700? At work we run a very locked down network so I can't access my lab at home. However 443 is open so I want to see if I can spin up a some SSH or RDP Gateway solution to give me access. Also sometimes I want to see if I can migrate my Unifi Video NVR to this host using a container.
I am keeping my eye out for another M700 (or two) and try to run a small vSAN cluster. I do this already nested but I still love physical hardware.
Wrap Up
I think I got a bit of a bargain with this M700 Tiny. The favourite devices seem to be NUCs for running labs on but this is pretty much a comparable device for a lot less money. I'm pretty happy and hope to pick up one or two more if I can find any on eBay or the shop I found it in.