Scottish VMUG October 2018
Introduction
On Thursday 4th October 2018 the second Scottish VMUG for 2018 took place in Edinburgh. It was a brilliant event with some great news and some news in changes to the group leadership.
Sessions
There was a great variety of sessions during the day. The big coup of the day was having Chad Sakac as the Keynote speaker. I started taking notes of the talk but it was so engaging I just gave up! It was an interesting format where Chad presented 20 images to talk about, with each image lasting 20 seconds.
Then he used a socratic method to involve us the audience in the session. He really knew how to get us involved in the discussion. It was a great session from Chad. Kudos to the leadership in getting Chad to visit us in Scotland.
Next I attended a session on VeloCloud. This SD-WAN solution seems to be very sophisticated. A range of hardware and virtual appliances, Dynamic multi-path optimisation, zero-touch provisioning, orchestration, SaaS and cloud awareness, application optimisation, etc. make this a feature rich solution.
Zerto gave an update on their solution. It seems they have a total package now for data protection. Backup and DR are becoming one thing. Zerto are well known for VM replication but now with a new version of their software they offer long term backup retention. Zerto say they can now offer backup, replication, orchestration and migration.
Coommunity Session
The Coommunity session was from VMUG member Allan McAleavy who is a performance engineer at Sky. His session was on using vROPS and Grafana to help find noisy neighbour VMs. I have seen a few posts about Grafna recently so I was interested to see what Allan would cover.
Allan knows his stuff. Grafana seems to get a really useful solution to drill down into your environment and find the nuggets of information that can help you diagnose what is causing your problems. I intend to look into what I can do with it.
I also want to give special thanks to Allan. After his session I asked him about some badly performing VMs I am troubleshooting at work. He spent time with me going through the things I should be looking for in great depth and then made notes of it all and emailed it to me. Thanks!!
VMUG Update
After Chad's session we were told of a change of VMUG leadership. As Chris Storrie now works for VMware, he is stepping down from the Leadership Team. Congratulations to Martin Campbell who is taking Chris's place.
Coommunity Member of the Year
Unknown to me Chris started talking about awarding a Scottish VMUG Community Member of the Year. Little did I know he was talking about me!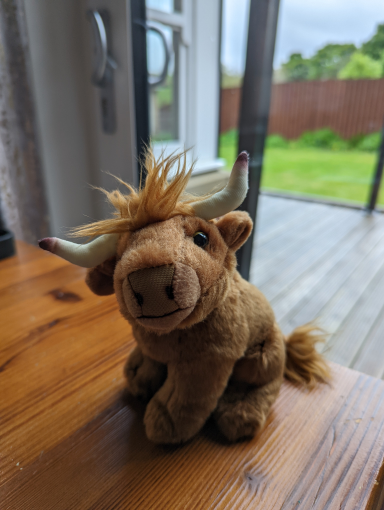 I cannot express my thanks enough to Chris, Sandy, Iain and James for the ticket to VMworld Europe. It's an amazing gesture and opportunity I fully intend to take advantage of. Look out VMworld, here I come.
At the vBeers I had great conversations about studying for certifications, burnout, mental health, driving fast cars, dumb things people do in IT, meditation, Linux, and many other topics. Great conversations with great people. I tried to convince people to participate more by contributing to the Community Blog or doing a community session. There was a great idea floated to help people in the community so I hope we can get it off the ground.
Lastly I finally got to meet Rebecca Fitzhugh and thank her for all the opportunities she's given me. Looking forward to seeing her at VMworld in November.
Wrap Up
There is going to be a vBeers event in Glasgow on the 18th January 2019 with the next VMUG scheduled for 21st March. I am looking forward to it already. Hope to see you there.